BOOST Pre-Workout Supplement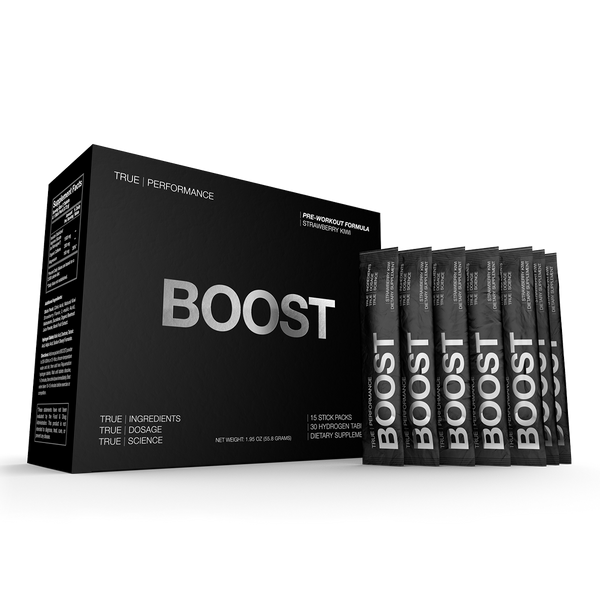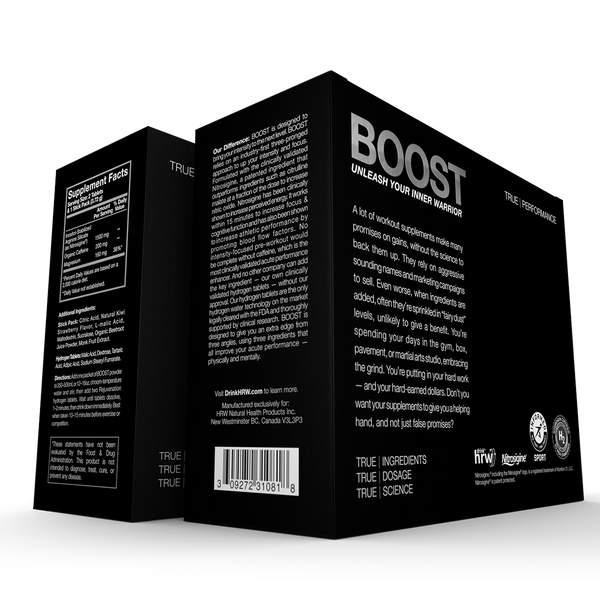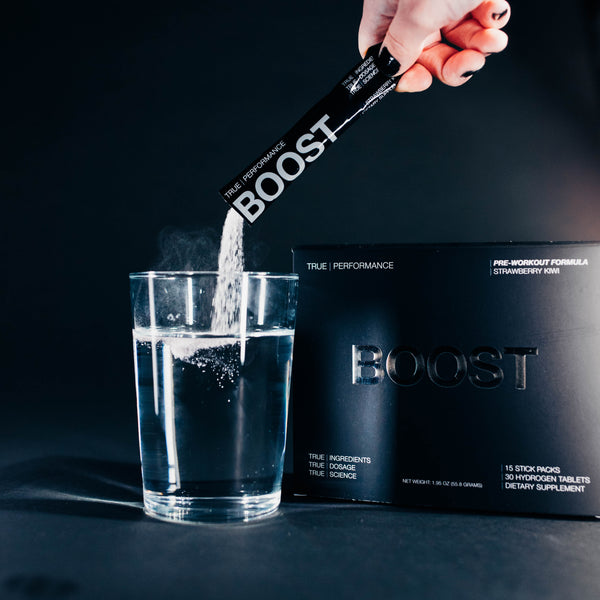 Total 5 star reviews: 3
Total 4 star reviews: 3
Total 3 star reviews: 0
Total 2 star reviews: 0
Total 1 star reviews: 0
Does what it claims.

"This seems to be a good pre-workout supplement- It's just a little more complicated than most.

You mix one packet in to your water, wait for it to dissolve, then drop a tablet in. Supposedly the tablet releases hydrogen into the drink that makes it easier/faster to absorb the 'good stuff' that you need to boost your workout. I don't know if this is true or just a gimmick, but either way it DOES add a step and a bit more complexity as compared to just mixing a powder and drinking it.

Mixes easily, and has a pleasant taste."

A healthy Boost!

"It arrived quickly and the 15 Sachets and 30 Hydrogen Tablets are packaged well in a nice looking box. This is a very unique Pre-Workout System and is only for 15 days, which seems a bit pricey at its current price of almost $45 but, it's actually not to bad when considering what it is. It's unique because though I use hydrogen daily, I've been used 2 tablets, along with a good Nitric Acid Booster, which this is a good one and it really helps me feel good and have the energy I need.

Hydrogen tablets are generally about $1 a piece so, the price is much easier to justify, especially if you appreciate the many other benefits of taking hydrogen as I do; It's good for the Brain, skin and much more.

I'd definitely recommend!"

BOOST-ed

I gave this a good look, and...over the course of a week, I found myself understanding and liking what I see. And of course, there is an experience of actually using it, and that was the best of all. Caffeine? Not a problem. The fact that they are very upfront with it shows they've done their homework. It's a boost that is present in many other packages.

Not bad stuff! It gets me pumped! No crash & burn!

"I haven't been taking this very long, and it doesn't have much flavor to it, but that doesn't bother me. I'd rather that then an icky flavor I can't tolerate, and I don't like coffee really, nor do I drink soda, and all of the calories from the latter. This supplement gets me juiced up without the crash and burn of regular caffeine fuel. (And no coffee stained teeth 🦷 .)

I do think it's a bit expensive for what it is. The presentation is wonderful.. the way it's boxed and promoted to the consumer, but I wish there was more to it. But I'm happy to have been trying it. It has helped get my body motivated, which is hard, even when your mind kind of /sort of is! I'd call it a bit of a jumpstart, if you will!

I like it!! I feel it worthy of a 4 star review of meeting my expectations. If the program consisted of more contents, I'd bump this up to a perfect score, as it DOES work, at lighting the flame, without letting you burn, so to speak. Try it! If you can afford it.. you might just love it! Comes with individual 'power powder' packets, and a bottle of tabs."

Game Changer

Not only does this take my workouts to the next level, but I sip on it at the office during long days to keep me focused. 10/10 recommend!
Press left and right arrows to navigate.
Viewing Slides 1 to 3 of 5
Reviews Loaded
Reviews Added